Food For You
August 18, 2022 4:00pm
Address: Activity Center, 6241 Gettysburg Drive, Stockton, CA US 95207
Contact: Hal Armstrong e
Website: http://www.sjchsa.org/Assistance/Food-Assistance/Food-For-You
FOOD FOR YOU - COMMODITY PROGRAM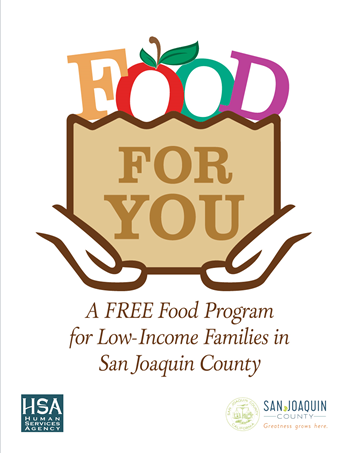 The San Joaquin County USDA Commodity Program, FOOD FOR YOU, provides free food for low income individuals in 8 community centers and 10 volunteer sites throughout the county. Individuals must meet residence requirements, and distribution sites are determined by zip code. Eligibility is based on monthly income. No application is necessary; individuals must simply provide proof of residence (i.e. utility bill, rent receipt, etc.).
For more information, please check out our English and Spanish flyer, English and Spanish distribution location list, and read our non-discrimination statement, in English and Spanish.

3rd Thursday of the Month from 4:00-6:00 pm
Food For You Team: Hal & Terri Armstrong, Judy Borth, and Bill Bambas.