Sunday School Classes start at 9:30 am.
Spring Season April 16th - May 21st.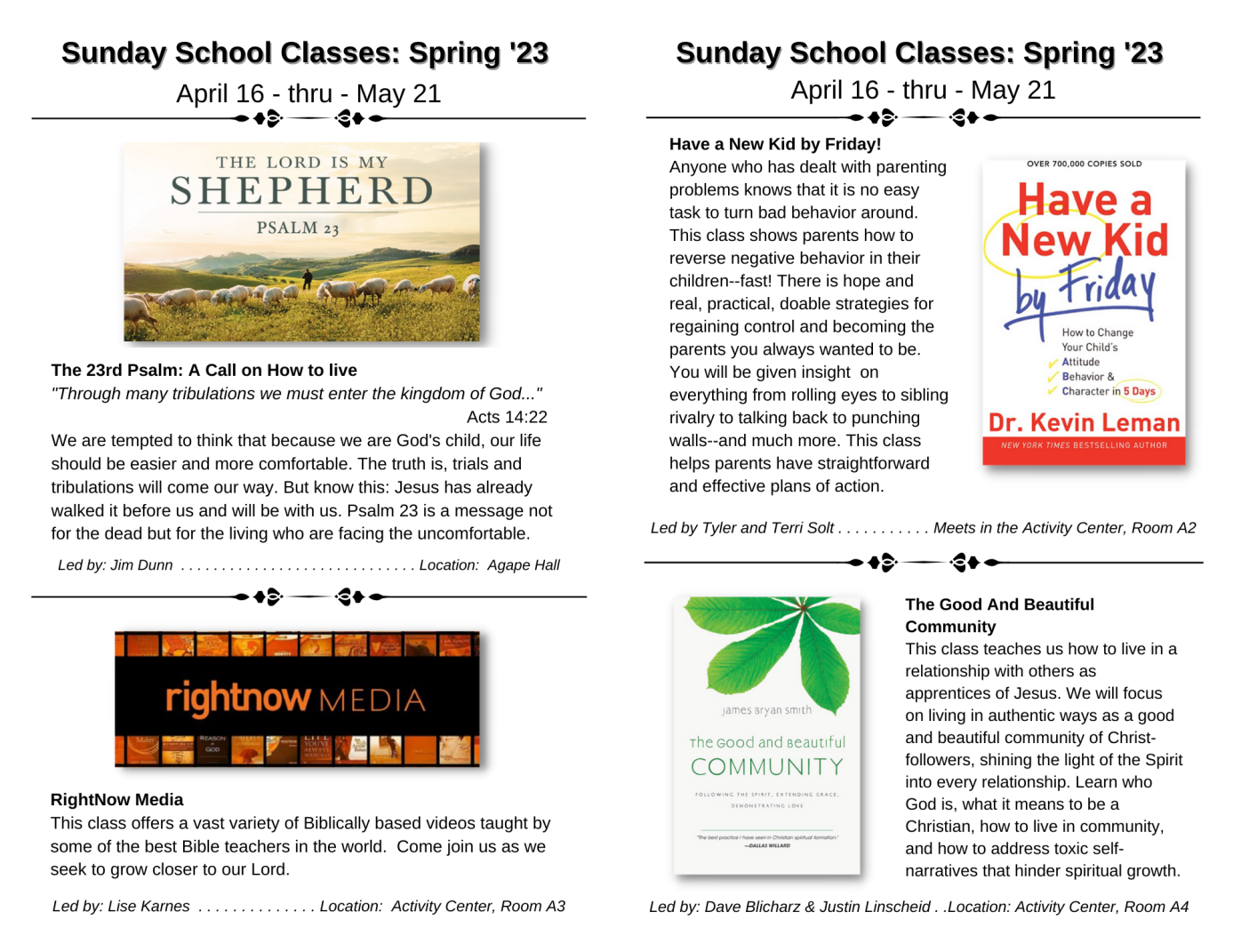 The Lord is my Shepherd
Location: Agape Hall
Led by Jim Dunn
"Through many tribulations we must enter the kingdom of God..." Acts 14:22 We are tempted to think that because we are God's child, our life should be easier and more comfortable. The truth is, trials and tribulations will come our way. But know this: Jesus has already walked it before us and will be with us. Psalm 23 is a message not for the dead but for the living who are facing the uncomfortable.
Have a New Kid by Friday
Location: Activity Center Room A2
Led by Tyler & Terri Solt
There is hope and real, practical, doable strategies for regaining control and becoming the parents you always wanted to be. This class will not only help with changing external behavior, but inner character as well. Throughout this class you will be given real life examples and tools for dealing with everything from rolling eyes to sibling rivalry to talking back to punching walls--and much more. You will most likely discover that you are the one transformed and your child's behavior will reflect that change.
The Good And Beautiful Community
Location: Activity Center - A4
Led by Dave Blicharz and Justin Linscheid

This class teaches us how to live in a relationship with others as apprentices of Jesus. We will focus on living in authentic ways as a good and beautiful community of Christ-followers, shining the light of the Spirit into every relationship. Learn who God is, what it means to be a Christian, how to live in community, and how to address toxic self-narratives that hinder spiritual growth.
RightNow Media Group
Location: Activity Center Classroom - A3
Led by Lise Karnes

RightNow Media offers a vast variety of biblically based videos taught by some of the best Bible teachers in the world. We are currently studying and discussing the book of Job. This group will engage with a variety of these studies to help equip and disciple you. In this group we will encourage and pray for one another as we apply God's truth to our lives.
Contact Justin Linscheid for more information
For all students 6th-12th grade
AMPLIFY: Growing a Faith That Lasts
Amplify: Growing a Faith That Lasts examines 17 foundational elements of faith:
The Holy Spirit, Worship, God's Word, Obedience, God's Mercy, Evangelism, God's Sovereignty, Suffering, God's Righteousness, Holiness, Spiritual Gifts, Service, Humility, Knowing God (Knowability), Prayer, Stewardship, The Unchanging God (Immutability)
Your students have heard these faith-based words in church before. Do they know what these words mean—and, more importantly—what these elements mean for their daily lives? In a world increasingly opposed to the things of God, where can students go to find the necessary truths to cultivate a vibrant faith? To grow a dynamic faith, teenagers must know God and His ways. They must understand what God expects of His people. And they must be able to see the world through the lens of God and His character. Amplify will help your students lay the foundation of a lasting relationship with God through a study of the core concepts of their faith throughout the Scriptures.
Location: Youth Room
Led by Harry Ulep
Contact Harry Ulep for more information
All kids should be checked in prior to class. Check in locations: Kid Zone room or Check-In Room. If you are new to LPC, we encourage your to Pre-Register your Children.
Nursery
Location: Nursery
Children ages 0-3 can be check in and taken to the Nursery. Kids will have a team of two volunteers that will have snacks, and a Bible Lesson for the kids.
Preschool-TK-Kindergarten
Location: PreK Room
Led by Christina Johnson

Kids in Preschool, Transitional Kindergarten and Kindergarten will have a wonderful time learning the scriptures in a hands-on approach. Everyone in this class should be fully potty-trained. These kids will have a great time journeying through the Generations of Grace Curriculum, in an age-appropriate way. Kids staying for the second service, can stay in the room for the second service class.
Elementary Grades
Location: KidZone Room
Led by Bev Hathorn
Kids in elementary school will have a great time journeying through the Generations of Grace Curriculum, in an age appropriate way. After class, kids will need to be picked up prior to the second service.
Generations of Grace Curriculum
In the Generations of Grace Sunday school curriculum, children are lead through the narrative of Scripture, from Genesis through Revelation, outlining God's redemptive plan. Each year the curriculum covers a different part of Scripture. Over the nine-year period a child spends, Generations of Grace will lead that child through God's redemptive plan three times, each at a deeper level.
Generations of Grace curriculum is set up as a "unified curriculum" for this very reason. Every week, children in each age range learn from the same passage of Scripture in a way that is appropriate for their respective age levels. A unified curriculum enables families to discuss one passage together each week, reinforcing the lesson children have learned in Sunday School.