"You are the light of the world…" Matthew 5:14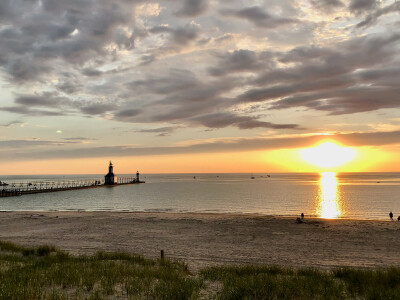 While visiting Michigan for my cousin's wedding, my family and I stopped by to visit a historical lighthouse on Lake Michigan. It was a beautiful sight to see. I had the opportunity to read the duties listed for a lighthouse keeper, a person who lived in the light house to keep the light burning brightly. Their primary duty was to "keep a good light, maintain the light and equipment to ensure the light is burning as cleanly and brightly as possible".

The signage explained that this was a task that required effort, devotion, and diligence. The lives of others depended on the faithfulness of the keeper. Without such a light to serve as a warning signal, ships would be unable to navigate danger and could run into land or rocks and sink.

Jesus calls us the light of the world. Christians must see themselves as lighthouse keepers. We must maintain the light in our lives and keep it burning bright. This task requires effort, devotion and diligence. Without proper maintenance of our faith in Christ, our light can become very dim.

How could your relationship with God use some intentional maintenance on your part so that your light shines brighter? Perhaps the light in your life could use the maintenance of confession to God, a greater effort in reading and applying God's Word, pursuing spiritual mentorship, more devotion to prayer, or a rearrangement of priorities.

The people who walk in the darkness of this world depend on your light to shine whether they know it or not. Without your light, they may never see the dangers of their present course.