A Very Merry Womens Bunco Party
December 3, 2022 10:00am
Cost: $10.00
Contact: Tara Silva
Website: https://lincolnpres.churchcenter.com/registrations/events/1472150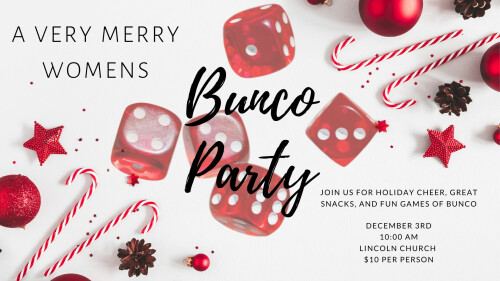 A Very Merry Women's Bunco Party
Dec 3rd @ 10 am
$10 per person and bring a snack to share.
Join us for Holiday cheer, great drinks, snacks and fun games of Bunco!
When you click on the link, you will be prompted to create an account.
Sign Up
Signups close Nov 20th.
Registrations will all be online, Nov 13th there will be ladies available to help with online registrations in the narthex.