Pastors
Bob Mitchell
Senior Pastor
Office: 209-477-2783
E-Mail:

Even as I was a pre-teen, I had a hunger for God and wanted to be the pastor of a church that would help others find faith, the faith in Jesus I knew. After spending my teen years in the Bay Area, I went to a tiny college in Kansas, because that's where my pastor went. After getting my bachelors, I moved back to California (Pasadena), to Fuller Seminary, earning a Masters and then a Doctorate. While on staff at a church in Los Angeles, I met my wife, Trish. As newly-weds we moved to Tennessee to pastor our first church for 10 years. All three of our children were born there and spoke with a southern drawl when we came to pastor Lincoln 22 years ago. In these years I love helping others find their way spiritually, spend time with our children and infant grandchildren, play the guitar, lift weights and wolf down a double-double at In-N-Out.
Matt Kirkland
Spiritual Formation Pastor
Office: 209-390-1397
E-Mail:

I started at Lincoln in October of 1996, coming from Atlanta, GA. My wife, Amy, and I have 4 children: Hannah, Caroline, Sam and Emily. I grew up in the little towns of Lindsay and Strathmore, CA. I graduated from High School from Strathmore High in 1985, then Fresno State in 1990 and from the Presbyterian School of Christian Education with a Master in Christian Education in 1995. I am currently the Pastor of Spiritual Formation, but I was the Campus Pastor of our multi-site for 5 years and I was the Youth Pastor for my first 12 years at Lincoln. I gave my life to Christ around a campfire at a Calvin Crest. And I spend my spare time often fixing my car/truck, playing basketball & golf, or working on someone's computer. Life verse: Acts 20:24.
Fred Jantz
Senior Executive Pastor
Office: 209-451-9006
E-Mail:

I retired from full time ministry in 2009 and came on board at Lincoln shortly after that. The transition has been wonderful and I thank God for this church. Most of my growing up years were in Germany and So. California. While in LA I was able to attend a camp (Hume Lake) and heard about God's love and forgiveness in Jesus Christ. That turned out to be a full life change for me. Then in my senior year of High School, I felt the call of God for full time service. The hard decision of surrender has turned out to be so good. Kathy and I have been blessed with 3 kids and 9 grandchildren.....and they live all over the 'world'. What fun a reunion is for us. Also fun for me is fixing things, teaching, preaching, singing, laughing, and watching sports.
Al Van Selow
Administrative Pastor
Office: 209-390-1393
E-Mail:

I was invited to come to Lincoln in 2012 to be on staff as the Administrative Pastor after spending 58 years in ministry in places like Seattle, Honolulu, and Southern California. I have been married for 63 years to my beautiful wife, Lavon. I have two sons. One who is still alive, another that passed away of an incurable virus that he contracted while visiting Africa on a business trip. I have five grandkids, and three great grandkids. I was 15 years old when I was given the ultimatum by a judge (because I was in trouble) to attend church or go to reform school--I choose to go to church, and found Jesus as my Lord and savior. I felt a calling to ministry the same moment I accepted Christ. I enjoy going on a date with my wife every Friday night and taking her out to lunch every Sunday, and have for 63 years.
Children's Ministry
Kristen Lambdin
Children's Ministry Director
Office: 209-390-1398
E-Mail:

Music
Tom BetGeorge
Director of Music/Worship Leader
Office: 209-390-1403
E-Mail:

When I was twelve years old I gave my life to Christ and haven't looked back since. From that time on I have been studying and writing music steadily. In 2002, I received my Bachelor's Degree in Music from UC Berkeley followed by a Master's Degree in Media Writing and Production from the University of Miami in 2006. Over the years I have served in a variety of roles to include a music judge, talent coordinator, piano performer, music teacher, worship leader, and an orchestra and choir director for musicals, schools, an opera house, and of course, at church. I just married my best friend, Teri, in January of 2016. Although I went to high school in Turlock, I spent most of my life in the Bay Area. I recently moved to Tracy because I missed the small-town feel. Aside from music, I have a few passions including fitness, sports (frisbee, football, and volleyball), working with youth, and nerding out with Christmas lights. Most people know me as a bit of a perfectionist – I either go big or go home in everything I do. I love Jesus and music. Putting the two together makes the best job ever!
Office
Cheryl Pannabecker
Office Manager
Office: 209-477-2783
E-Mail:

I came to Lincoln in March of 2012. Cameron, my husband of 38 years, and I have two grown children, one in Lodi and one in Springfield, MO. Both are married and have blessed us with five grandchildren between the two of them. I grew up in San Jose, CA, attending church regularly, but it wasn't until high school that I began to feel God drawing me to Him through my church, and through other Christian friends. I said "Yes" to Jesus my junior year and have been walking with Him ever since. Working in a church office was something God put on my heart. I started as an office volunteer for several years before becoming a paid staff member. I love my job and it seems to be a good fit. I enjoy playing & baking with my grandkids.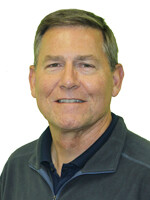 John French
Administrator
E-Mail:

My wife June and I joined the warm and welcoming fellowship of Lincoln in 2014. Although I was born in Stockton, my public service career took me around the state. I have an undergraduate degree in accounting and a master's degree in public administration. I served in local government as a manager and administrator for twenty-six years. We are eager to support the ministry of the gospel of Jesus Christ at Lincoln, and look forward to seeing God change people's lives through this church. We have two wonderful children, thankfully all grown up. When we are not at Lincoln, you may find us enjoying the outdoors biking, hiking, sailing, and paddling.